Youthful Radiance Night Treatment Skin Pudding (25g)
RM 25.00
with 3 installments via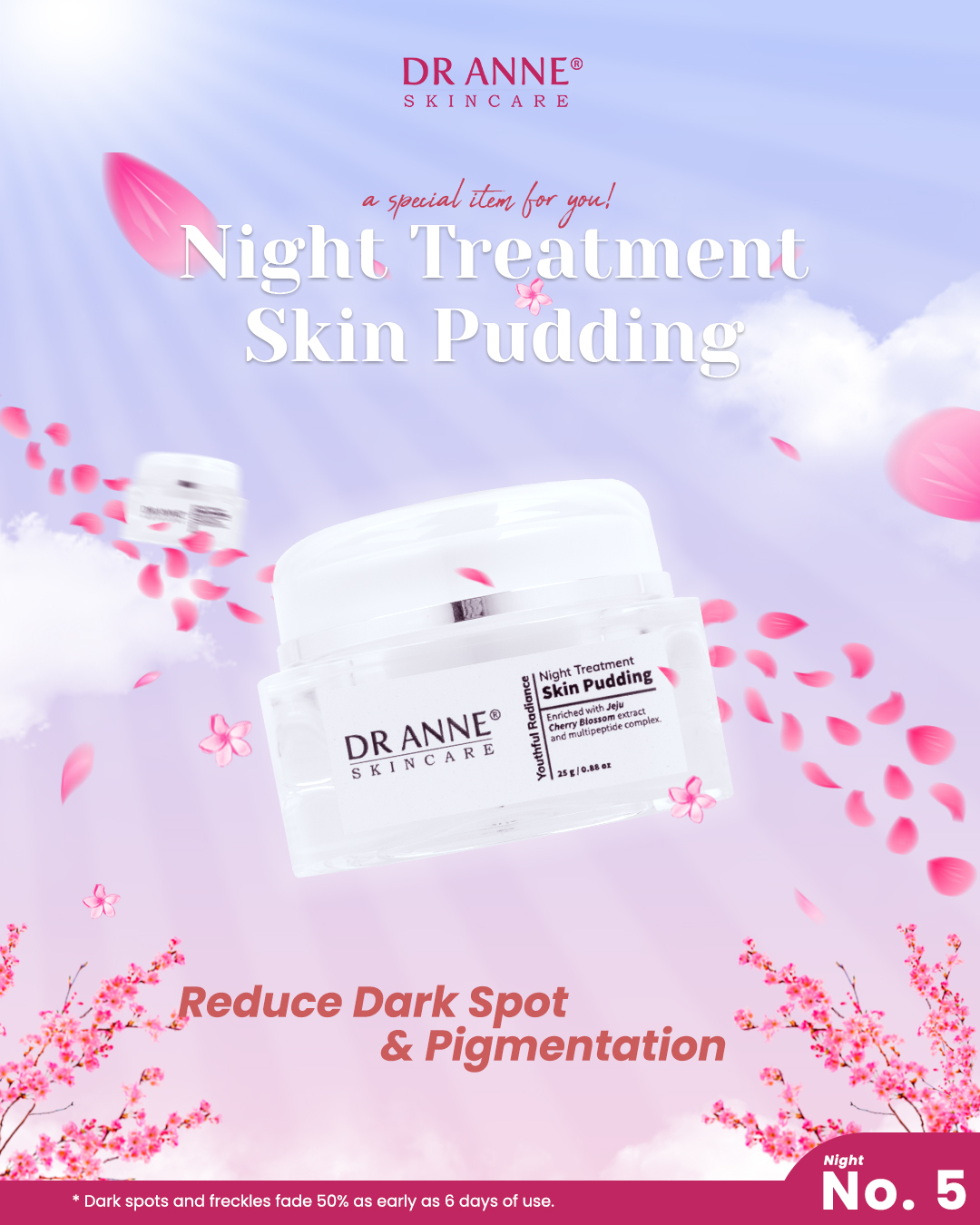 English
--------------------
Night Treatment Skin Pudding
Enriched with Jeju Sakura Flower extract, a multi-peptide complex, vitamins, and other active ingredients, this Night Treatment Skin Pudding has been formulated to help moisturize the skin, improve fine lines and reduce wrinkles.
With the addition of Alpha Arbutin and 5% Niacinamide, it also helps to reduce dark spots and skin hyperpigmentation.
From the first use, the skin feels smoother and looks brighter. Within 28 days*, the skin appears younger and rejuvenated.
Benefits of Night Treatment Skin Pudding
- Fades black acne scars and freckles.
- Protects the skin from free radicals.
- Brightens the face.
- Maintains the softness and firmness of the facial skin.
- Moisturizes the facial skin.
- Smoothens pores to make them appear small and flawless.
Key Ingredients
1. Niacinamide:
- Helps visibly minimize enlarged pores,
- improve uneven skin tone, soften fine lines and wrinkles,
- diminish dullness and strengthen the weakened skin barrier.
2. Peptides:
- Peptides are amino acids that are the
building blocks of certain proteins
needed by the skin, like collagen and
elastin.
- Peptides can lead to firmer,
younger-looking skin and fewer
breakouts.
3. Alpha Arbutin :
- Reduces melanin formation, improving
the appearance of age spots, freckles,
melasma, and post-inflammatory
pigmentation.
How to Use
- Apply 2 pea-sized amounts of Night Treatment Skin Pudding to the face and neck.
- Use every night before sleep for a younger and radiant appearance.
- For nighttime use before sleep.
Ideal for
All skin types
Bahasa Melayu
--------------------
Night Treatment Skin Pudding
Diperkaya dengan ekstrak Bunga Sakura Jeju, kompleks multipeptide, vitamin dan bahan aktif lain, Night Treatment Skin Pudding ini telah dirumus untuk membantu melembapkan kulit, memperbaiki garis halus dan mengurangkan kedutan.
Dengan tambahan Alpha-arbutin dan 5% Niacinamide , ia juga membantu mengurangkan bintik hitam dan hiperpigmentasi kulit.
Dari penggunaan pertama, kulit berasa lebih licin dan kelihatan lebih cerah. Dalam masa 28 hari*, kulit kelihatan lebih muda dan rasa diremajakan.
Manfaat Night Treatment Skin Pudding
- Memudarkan parut jerawat hitam dan jeragat.
- Melindungi kulit daripada radikal bebas.
- Mencerahkan wajah.
- Menjaga kelembutan dan keanjalan kulit wajah.
- Melembapkan kulit wajah.
- Menghaluskan pori agar kelihatan kecil dan flawless.
Bahan Utama
1. Niacinamide:
Mengurangkan saiz liang pori yang melebar.
Meningkatkan penampilan tona kulit yang tidak sekata.
Melembutkan garis halus dan kedut.
Mengurangkan kusam dan mengukuhkan skin barrier yang lemah.
2. Peptide:
Peptide terdiri daripada asid amino yang berfungsi sebagai komponen asas protein
tertentu yang diperlukan oleh kulit, seperti kolagen dan elastin.
Peptide dapat membantu kulit lebih tegang, lebih muda, dan mengurangkan munculnya jerawat.
3. Alpha Arbutin:
Mengurangkan penghasilan melanin, jeragat , tona kulit tidak sekata, melasma, dan pigmentasi pasca-radang.
Cara Guna
- Sapukan 2 jumlah Night Treatment Skin Pudding sebesar kacang ke muka dan leher.
- Gunakan setiap malam sebelum tidur untuk kulit kelihatan lebih muda dan berseri.
- Digunakan pada waktu malam sebelum tidur.
Ideal untuk
Semua jenis kulit
---